10 Trendy Tops for Women To Wear with Jeans in 2024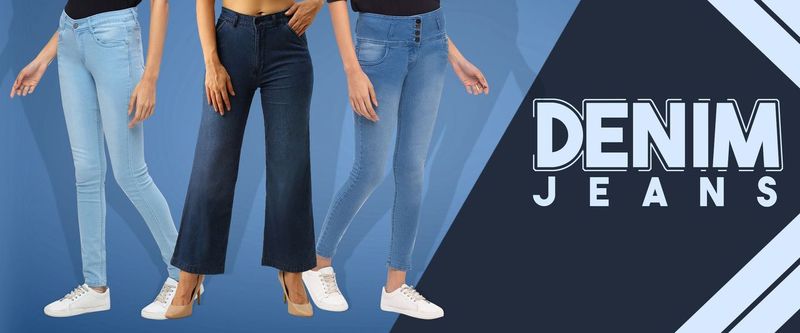 In the ever-evolving world of fashion, the timeless combination of jeans and stylish tops remains a go-to choice for many women. As we step into 2024, it's time to refresh your wardrobe and explore the latest trends in ladies' tops online. Fortunately, the convenience of women's tops online makes it easier than ever to stay ahead of the fashion curve. Let's dive into the top 10 trendy tops for women to pair with your favorite jeans and give your style a fresh update. 
Purple Power
Embrace the regal allure of purple with a trendy purple top to elevate your jeans look. This year, deep and rich shades of purple are making a comeback under the category of jeans and tops online. Whether you choose a plum, lavender, or aubergine top, it's a great way to add a pop of color to your ensemble. Look for stylish purple ladies' tops online to stay on-trend and make a striking fashion statement.
Pretty in Peach
Peach is a delightful and feminine shade that can soften the rugged appeal of jeans. A peach top offers a lovely contrast while maintaining a chic and understated look. When you buy tops online, explore various shades of peach, from soft pastels to warm coral tones, to find the perfect match for your personal style. It will definitely help you curate a perfect jeans and tops look online.
Graceful in Grey
Grey is a versatile neutral that complements jeans effortlessly. A grey top can be dressed up or down, making it a fantastic addition to your wardrobe. It pairs beautifully with both light and dark denim, offering endless possibilities. When you shop tops online, look for unique grey tops with subtle details like lace or embroidery to add an extra touch of elegance to your outfit.
The Classic White Blouse
The classic white blouse never goes out of style. Its timeless appeal and versatility make it a must-have in your collection of women's tops online. Whether you prefer a crisp button-up shirt look or a regular jeans and top look online, pair seamlessly with jeans top online for a clean and polished look. So specifically look for crisp white blouses while you are on a search for ladies' tops online.
Floral Elegance
Floral prints continue to be a hit in 2024. A floral top can add a touch of whimsy and charm to your jeans ensemble. Whether you go for a bold and colorful floral pattern or a more delicate design, floral tops bring a sense of playfulness to your outfit. When shopping for women's tops online, explore a variety of floral patterns to find one that suits your style.
Shoulder Showdown
Off-shoulder and one-shoulder tops are making a strong comeback this year. These stylish options add a touch of sensuality and uniqueness to your look. When buying ladies' tops online, consider selecting an off-shoulder or one-shoulder top to add a trendy twist to your jeans outfit. It's a great way to show off your shoulders and collarbone, creating a subtly sexy and fashion-forward appearance.
Chic Bodysuits
Bodysuits are all the rage in 2024. These form-fitting tops provide a seamless and tucked-in look that pairs flawlessly with high-waisted jeans. Look for women's tops online that come in various designs, from simple and minimalistic to intricate lace and cut-out styles. Bodysuits are not only stylish but also practical for achieving a sleek and streamlined look.
Wrap Tops
Wrap tops are quite popular in the category of ladies' tops online for their flattering silhouette and timeless appeal. These tops feature a wrap-around design that cinches at the waist, creating an hourglass figure. Whether you choose a classic wrap blouse or a modern wrap crop top, this style is a great choice to wear with jeans for a touch of elegance and femininity.
Statement Sleeves
Sleeves are taking center stage in 2024, with exaggerated styles, such as puff sleeves and bell sleeves, stealing the spotlight. Statement sleeves add drama and flair to your jeans outfit, making it a top trend to watch out for. When you shop tops online, explore various sleeve styles to add a bold and fashionable element to your look.
Bohemian Vibes
Bohemian-inspired tops are making a comeback, embracing flowy fabrics, loose silhouettes, and intricate detailing. These tops are perfect for a laid-back and carefree look that pairs effortlessly with jeans. Whether you prefer peasant tops, crochet details, or tassels, the bohemian trend adds a touch of free-spirited style to your outfit.
Tips for Shopping for Women's Tops Online:
Check Sizing Charts: Ensure you get the right fit by referring to the sizing charts provided by online retailers.
Read Reviews: Read customer reviews to get insights into the quality and fit of the tops you're considering.
Mix and Match: Experiment with different styles and colors to find the combinations that suit your personal style.
Pay Attention to Fabric: While you

buy tops online,

consider the fabric of the top, as it can greatly affect the comfort and look of your outfit.
Accessories Matter: Pair your trendy tops with statement accessories to complete your look.
In Conclusion
Jeans are a fashion staple in every woman's wardrobe, and the right top can make all the difference in elevating your style. As we venture into 2024, exploring the latest trends in women's tops online is a convenient way to stay fashionable and fresh. From the regal charm of purple to the timeless appeal of white blouses, there's a wide array of options to choose from while looking to buy tops online. Whether you're embracing statement sleeves or opting for chic bodysuits, these top trends are sure to help you make a lasting impression and keep your style game strong throughout the year. So, go ahead, shop tops online, and create the perfect pairings to express your unique style in 2024. 
Popular Searches
Women's tops online | Buy tops online | Stylish purple ladies' tops online | top 10 trendy tops for women
Trending Blogs

Latest Salwar Suit Trends for Women Online
Zola Chikankari Kurti: Elevating Your Ethnic Wardrobe
Embrace Fashion Fusion with Indo-western Dresses